Well, friends, here is what nobody has been waiting for: Crusty's General Convention Preview Extravanganza. You may have noticed Crusty has been quiet for several months; some of that has to do with some other projects he has been working on, COD is hard at work on his next book, a research project on what we in North America can learn from Christians in Eastern Europe and their experiences in the 1990s. But the silence has also been in part because COD just can't seem to muster the Crust to write a General Convention preview. Heck, Crusty once wrote a GC preview a
whole year before General Convention
was to be held! This is reluctance is, in part, because there are so many excellent ones out there already, particularly
Scott Gunn's exhaustive work
, which is like the freakin' Stephen King's
The Stand
of General Convention previews Seriously, given how verbose and long winded these blog postings are, if Crusty thinks something is long, that's like Greg Allman telling Duane "You know, maybe that guitar solo goes on a bit too long," or James Brown telling Sly Stone, "That riff is just a little too funky," or Donald Trump telling Kanye, "You know, I think maybe you're being a bit too narcissistic."
But it's not just that. COD has realized this dilly-dallying on whether to write a GC preview is largely because COD had given up on General Convention. Now, when Crusty says that, it is by no means because he thinks GC is unimportant or meaningless or doesn't relate to what happens in his
Stephen King says "TL:DR" to GC previews.
corner of the world. Far from it; GC's budget shapes our priorities, it is historically where important strides towards inclusion of women and LGBTQ persons has taken place, Convention authorizes liturgical resources, among other ways it shapes the church. It's not because GC is unimportant.
It's because COD no longer has much faith that GC will do anything about our impending implosion as a denomination.
In the fabulous early 2000s (wow does it pain Crusty to be that old that the early 2000s are now a relatively long time ago...) reboot of the sci-fi series Battlestar Galactica, there's a crucial turning point in the confrontation between the newly sworn in President and the military commander of the Galactica. Billions have died in a massive surprise attack by their enemies, the Cylons. Commander Adama wants to reload and get back into the fight; the President thinks they have to flee for their lives and try to salvage the human race. "There's a war on," Commander Adama growls as only Edward James Olmos can. "The war's over," the President says, "and we lost."
Crusty thinks there is real need for substantive, top to bottom, transformative change in how we organize and be church, from the General Convention level to the seminary level to the diocesan level to the parish level. Crusty's spent a good chunk of his life trying, in his own way, to do this: serving 10 years on the Ecumenical staff of the Presiding Bishop working on closer partnerships with other Christian denominations; overseeing a merger of two seminaries to create a flexible, non-residential seminary training model that incorporates local formation; revamping and relaunching a college chaplaincy; and now as simple country parson, working on focusing a pastoral-size parish around worship, formation, and outreach. At the churchwide level...well the record is not so good. Crusty was disheartened by a slash-and-burn 30% budget cut in 2009 without little thought put into strategic goals or vision; argued hard for substantive reorganization proposals in 2012; was disappointed by the eventual report issued by the Task Force for Re-imagining the Episcopal Church; and was part of the posse that amended the budget on the floor of Convention in 2015 to include more funding for evangelism and church plants.
But what came out of it all? In 2012, Crusty was all-in behind efforts and proposals to rethink and reshape our church to be in service of mission and ministry. All that came out of that, including the TREC report, was a proposal to get rid of most Commissions, Committees, Agencies and Boards...which we did, while paradoxically increasing the amount budgeted spent on meetings. In 2015, Crusty was part of the group that helped to amend the budget to have more money for church planting and evangelism, only to see in 2018 that money be scaled back while increasing amounts for other areas of governance. General Convention is still largely old and white, since taking two weeks off in the middle of the summer (throwing in travel and pre-Convention meetings) effectively means we have a professionalized governance caste. Numerous dioceses are still teetering in viability, and in many dioceses COD would hazard to guess anywhere from 30-50% of the parishes will close in the next 25 years or so. Far from taking steps towards systemic change, we could argue, in fact, that we are in some ways worse off.
But then Crusty read the report from the House of Deputies Special Committee on Sexual Harassment and exploitation: Time to stop sulking in the tent like Achilles in the Iliad or Posh Spice
If you wanna b with Crusty, better get with our polity.
with committing to the Spice Girls Reunion Tour. We can do something that matters at this Convention.
Crusty has written on issues of sexism, inequality, and misconduct at various times over the years in this blog, preached on it from the pulpit, and incorporated it into history classes he's taught. This is, in part, because as a spouse of a female priest I have seen first hand the ways in which sexism is at work in the church. But COD has to add that having a personal connection should in no way, shape, or form necessarily be determinative. Civil rights for African Americans doesn't depend on someone have a personal connection and full equality for LGBTQ persons shouldn't depend on someone having a gay nephew. That perpetuates the dynamic where those in power and who benefit from the systems in place still operate from a position of largesse and that somehow equality is to be "granted." Equality, inclusion, and fairness are not something that need to be granted. Rather we must dismantle the systems that those in power use to exploit and deny. As people of faith, they are also not something to be granted because equality, inclusion, and fairness are inherent to who we are as children of God, made in the divine image in all the beauty of our diversity.
COD thus welcomed at long last the Report of the House of Deputies Special Committee on Sexual Harassment and exploitation. Crusty had absolutely no issues with the makeup of the committee, which some had criticized as being all female, and somehow not representative of the church. COD frankly found it laughable any church with an overwhelmingly male, white House of Bishops and an overwhelmingly old, white, upper middle class constituency could then turn around and start getting worried about bodies somehow not being capable of doing their job if they were not somehow diverse. Those kinds of complaints are precisely the kind of example of those with power who benefit from the system doing their best to use their privilege to undermine change.
And while Crusty will be offering his thoughts and comments in the report, this report and its proposal in no way, shape, or form needs any of these thoughts: it does not need a straight white guy to give it a mansplaining seal of approval. The report and its resolutions derive their authority canonically from its status as a Special Commission, and from the experience, wisdom, insight, and personal authority of its members, who are a broad, diverse, representative, dedicated, faithful, and accomplished cross section of the church. I only write here as someone with privilege, who has benefited from systems of sexism and explicit and implicit bias, to fully support efforts to take systemic and tangible steps towards truth telling, confession, reconciliation, and restorative justice in any way I can.
The Special Committee divided its work into several subgroups: (1) Theology and Language; (2) Structural Equity; (3) Title IV and Training; (4) Truth and Reconciliation; and (5) Social Justice for Women. Crusty commends the report in its entirety for its care, depth, and attention -- even more impressive given the compressed timeframe. Established in March, in about three months the Special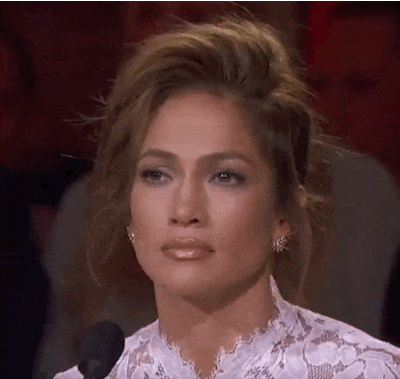 Crusty on TREC b all like.
Commission has offered a series of resolutions that potentially can begin a path of transformation for the church. This again just makes Crusty shake his head even more than the Task Force on Re-imagining the Church, which had a longer time period and more funding to do its work and still produced a report with resolutions that at times were gibberish.
Here are some thoughts on the individual subcommittees' work.
1) Theology and Language: the big suggestion here is that we begin the process of revising the Book of Common Prayer NOW for "urgent pastoral and evangelical need."
Crusty supports this proposal. Language matters, the language we use about God matters, and the language we use in worship matters.
There's a 3-year-old child in Crusty's congregation. We use inclusive language in liturgy in the sense that COD never uses "he" or "his" as an antecedent for "God" or the Holy Spirit. We either use Enriching our Worship, or else make small changes to Rite II ("all who serve God in God's church" for instance). I've preached on at least 4 or 5 occasions in the past 2 years that God is not gendered, and, while we do use "Father, Son, and Holy Spirit" it's because, like the early church, we understand those to be imperfect efforts to describe a relationship that we can never define and not indicative of God's male-ness. This church has had plenty of women serve in clergy roles and preside at the Eucharist.
This 3-year-old child refers to me as God. She thinks I'm God. THE God. She didn't get it from me, from Sunday School, from our liturgy, or from her parents. But she picked it up somewhere. Where, it doesn't really matter, because it shows patriarchy is endemic in the society and the culture and the church.
The 1979 BCP is not inclusive in terms of gender in its language. That's pretty straightforward and undeniable. It actually now lags behind the Orthodox Church and Roman Catholic Church in some areas; for instance, in the Nicene Creed, the official Greek Orthodox and Roman Catholic English language translation correctly translate the Holy Spirit as non-gendered: "WHO proceeds from the Father and the Son, WHO with the Father and Son is worshipped and glorified." Yes, there are alternatives out there, including Enriching Our Worship. But EOW is largely considered "other." When COD used EOW in a congregational setting, someone asked "Why aren't we using the Prayer Book?" In another diocese where COD served, he was informed EOW was not permitted by the diocesan bishop.
So we need a universally authorized BCP that reflects inclusive language. For almost a generation we have treated inclusive language as the kids' table to the real table of the official BCP. For nearly 40 years. For a church that talks about how praying shapes believing, how can we not realize that if we are fully to dismantle systems that privilege maleness, how can we have the current Prayer Book as normative? We especially need an inclusive language Psalter, another place where we are almost comically and woefully behind the times: Crusty at times has used the translation in the new Evangelical Lutheran Worship resource, itself a decade old, as well as the St Helena Psalter.
That said, COD has a caveat, and would like to propose the following as part of Prayer Book revision:
--Half the people on the BCP drafting commission must be under 45. If this is for pastoral and evangelism purposes, let's have the people who are going to be leading that future church at the table in the revision.
Crusty also endorses the commitment to inclusive and gender/bias neutral language by General Convention, Executive Council, and churchwide staff, as well as asking our seminaries to do so as well -- and, indeed, many of our seminaries have been leading the way in this process. When COD was academic dean of the seminary we already had an inclusive language policy and commitment in place.
2) Structural Equity: COD heartily endorses the proposals to create a curriculum for anti-sexism awareness and training, and to include the requirement of training for ordinands and clergy. It parallels our commitment to addressing systemic racism by requiring anti-racism training and awareness.
COD also enthusiastically supports reforming our old boys network of position postings. A good number of positions are simply never listed or posted. Crusty welcomes the resolution here removing gender as an identifying marker due to unconscious bias, and financial history should be deleted as well from the centralized database of clergy profiles. We live in a system where women are systematically underpaid; by basing future compensation on past compensation, we only perpetuate that system. BTW the numbers on compensation disparity have been analyzed by the Church Pension Group, and this is not ancedotal; here are the numbers from a recent CPG study:
--Overall, average compensation for male clergy is $60,000 and $45,000 for women
--Women tend to receive less in average compensation than men for the same job with same years of experience.
--Women are less likely to be rectors than men: 93% of male clergy have held a Rector or Vicar position, as opposed to 65% of female clergy.
--Married male clergy received more in compensation than unmarried male clergy. It is the inverse with female clergy: unmarried women receive higher average compensation that married women.
Similarly, there are ample social science and psychological surveys which have demonstrated implicit bias. We have had the numbers before us for quite some time on the structural and compensation inequality in our system: are we willing to do anything about them, or not?
Yet Crusty also would have liked to see a few stronger recommendations than what was in the report. For instance,
--All positions that are at least half-time should be required to be listed through OTM. Some of our ecumenical partners require all positions be posted through a central database for openness, transparency, and equal access to positions. Crusty is disappointed that the Special Committee "discussed...but did not finalize" a resolution to this effect. The fact that we do not do this, unlike a number of other denominations, is an appalling lack of transparency and does not permit equal access to open positions.
--Crusty wishes the report had gone further in mandating compensation formulae for dioceses. The diocese of Massachusetts, where Crusty serves, has one: while not perfect, it takes a lot of the negotiating out of the process of entering into a new position, and is based on congregation size, congregation budget, and the cleric's years of ordained experience.
Crusty also supports removing martial, family, or family planning status from permissible questions than can be asked in interviews, as well as being included as areas where persons cannot be denied access to the discernment processes for ordination. My wife was once negotiating a letter of agreement that included pregnancy leave, and the other person stated, "I didn't know you were thinking of having more children." A female colleague called me once and we talked about the possibility of her entering an episcopal search process, and I said, "You do realize your womb is now going to be a topic of public conversation, given the way women candidates are treated differently than male candidates. Nobody would ever ask me what my sperm count is but people will ask you if you're planning to have children."
On reinstating a women's missioner...Crusty noted above how appalled he was with how the 2009 General Convention simply took a meat cleaver to the budget without any effort at all for establishing goals or priorities. Thus we ended up with a church with systemic, glaring gender imbalances but no staff position for women's advocacy and empowerment. By all means, we should have a staff position in this area. COD has two quibbles, one major, one minor. The minor one is "Women's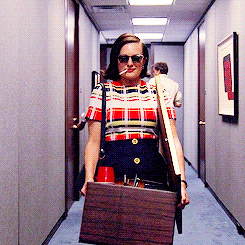 If it's going to be a Desk, at least hire Peggy Olson.
Desk." It's not 1974, and churchwide program staff people are not answering phones at a desk but are spending half their time on the road building networks in the church. Women's Missioner or something similar would seem more in line with current nomenclature.
The major quibble is that the amount suggested here is too low: $100,000. Has the special commission internalized the mindset of the church that women should be paid less than others? Something along the lines of $150,000 for salary, pension, and health care would seem more appropriate.
--Pension Equality: Crusty is all for equity in how we treat lay and clergy employees, and I have blogged about this on several occasions. As dean of a seminary, for instance, COD removed vesting provisions for lay employees in 403b plans: since we must immediately pay assessments and allow clergy to accrue benefits, how can we make lay employees wait 6 months to a year?
That said, COD would like to run the numbers more on the proposal to have an 18% contribution to a defined contribution plan: the 18% assessment on a cleric's compensation is not entirely equivalent to an 18% contribution to a 403b or defined contribution plan. An 18% equivalency implies an equivalency between a defined benefit and defined contribution when the matter is more complicated. For instance,
--CPG provides other benefits in their defined benefit plan like disability and survivor's benefits; not all of the 18% goes towards paying and individual cleric's pensions, whereas the 18% in a defined contribution all goes towards the retirement benefit.
--A 403b is an asset that can be transferred. If my wife and I both die after my child reaches a certain age, he wouldn't receive anything from CPG, whereas we could pass on a 403b no matter what our age or his age.
--There is the matter clergy being self-employed and paying the entirety of the 15.3 social security and medicaid assessments. Yes, clergy can take a housing allowance, but there are times when the social security assessment differential means clergy pay more in taxes than lay persons. For instance, Crusty was once living in church housing. That meant I could only take a small housing allowance, while also having to pay taxes on the fair market rental value of church housing, and responsible for the 15.3% FICA and SECA. I paid more in taxes than an equivalent lay employee. There are other financial issues to sort out in clergy and lay equity.
As a half-way covenant, when Crusty was academic dean, the compromise we offered to try to balance these issues was to make a 10.35% contribution to a 403b for lay employees that chose that option (18% minus 7.65% that clergy pay for FICA and SECA that lay employees do not = 10.35%) with no employee contribution needed at all (though they were free to contribute on their own). Certainly not perfect, but an effort to try to balance striving for equity with the fact clergy are considered self-employed and lay persons are not.
COD is all for equity, but would like more research before mandating an 18% equivalency for defined contribution plans.
3) Title IV and Governance: COD appreciates the thorough care and attention given here, specifically in providing whistleblower provisions, creating a churchwide intake officer, adding provisions against retaliation as part of the Title IV process, and lifting the statute of limitations for the next three years with regards sexual misconduct. When talking with a Sudanese colleague, I once shared that I found it difficult at times to preach on apocalyptic texts, with the whole notion of Jesus coming to judge. My Sudanese friend laughed and said, "Spoken like a Westerner. If you come from an oppressed people, you would welcome the coming of Jesus. Only the comfortable and guilty fear apocalyptic texts." Only those with something to hide and the guilty should fear the lifting of statutes of limitation. #TimesUp.
Crusty actually wishes the Special Commission had gone further in two crucial areas.
--The first had to do with clergy from full communion partners who serve in The Episcopal Church. There's a bit of a problem here: we cannot hold clergy from other churches accountable under our Title IV because Article VIII of the Constitution specifically exempts clergy from churches in full communion from subscribing to the Constitution & Canons. This is in part because these clergy still remain in good standing in their own denomination, and only serve on a temporary basis under full communion arrangements. It is also because different churches have different aspects and elements of accountability, and we open a Pandora's box if clergy can be held accountable in a church other than their own. Do we really want Episcopal clergy be able to be deposed if they are found to be teaching contrary to the Augsburg Confession when serving in a Lutheran church by the ELCA's disciplinary process?
That said, there is the very real issues of clergy from full communion churches who commit sexual harassment or misconduct while serving in another church: currently all we can do is inform whomever they are accountable to in their sending church and hope that they pursue the matter. We can't tell another denomination what to do, just as they cannot tell us (though Lord knows we have tried).
One of the resolutions proposed asks that the Executive Council "include language in the several agreements that govern the exchange of clergy between denominations to allow and encourage bishops to communicate information regarding any and all disciplinary actions in a cleric's history, and enter into new agreements specifically for the exchange of information about involved clergy." This is essentially codifying what is more or less the current practice by specifically writing this into the policies that inform clergy exchange.
While we cannot tell another denomination what to do, or hold clergy from other denominations accountable under Title IV, the reality is there are lots of other ways to hold persons accountable. As academic dean at a seminary, none of the seminarians were accountable under Title IV. Yet we had sexual harassment and misconduct policies that they had to abide by as condition of enrollment, and processes for holding them accountable and informing those with authority over them the results of any accountability investigations.
There's no reason we couldn't do something similar: any clergyperson from a full communion church serving in the Episcopal Church (other than occasional Sunday supply) must do so on a contractual basis: an ELCA pastor cannot be a Rector (to do so they would need to transfer and be received into The Episcopal Church). Since it must be on a contractual basis, require that in every Letter of Agreement or other contractual process there be a definition of sexual harassment and misconduct, notice given that anyone found in violation of this will have the contract terminated, outline the process under which they would adjudicated for violating the definitions, state that non-compliance or non-cooperation will also result in the contract terminated, and that notice will be sent to the person's home judicatory and churchwide governance of the results of any investigations, as well as to the Episcopal Church's churchwide governance and all bishops of The Episcopal Church (just as we communicate any judgments and accords under Title IV to all bishops).
--The second is that there is no process for accountability for lay persons. In the initial draft of the revised Title IV provisions proposed in 2009, lay persons would have been held accountable -- yet all provisions for accountability of lay persons was stripped in the final version approved by General Convention. Crusty cannot speak to all the reasons why, but can only share that in the legislative hearing he attended, there were those who testified to their concern that bishops would use lay accountability under Title IV to harass, silence, or retaliate against lay persons.
I have to think there must be some middle ground between making laypersons accountable in all areas of Title IV on the one hand and having no accountability at all for laypersons under Title IV. Right now, should a lay person commit sexual misconduct or sexual harassment, the only recourse is to fire the person, in addition to any criminal or civil proceedings. COD once counseled someone who confronted their bishop about sexual misconduct by a lay employee and was told by their bishop there was nothing the bishop could do except fire the person and not provide a reference; and, since the only additional recourse was either criminal or civil charges, the bishop could not speak to the complainant again without an attorney present. A layperson can relocate across the country and omit anything they want from their work or volunteer history, and accountability exists only insofar as networks of informal communication provide.
We must either include laypersons under Title IV at least as accountable for sexual harassment and sexual misconduct, or require inclusion of sexual misconduct and sexual harassment provisions in letters of agreement like COD proposes with regard to clergy from churches in full communion, or we will still have a huge lacuna in accountability.
4) Truth and Reconciliation
Crusty is thankful for the clear, concise, and forceful case made here. All too often the concept of "Truth and Reconciliation" can be tossed around, and we must be clear about what we would hope to emerge from such commission or process, and what the nature and scope would be. In South Africa, for instance, the Truth and Reconciliation Commission could give amnesty to those who came forward and testified to crimes under apartheid.
This resolution is so clear and powerful that Crusty would like to recommend that the first resolved, if passed, be included it in the Historical Documents section of the future revision of the Book of Common Prayer proposed by the Special Commission. I have already made a not to include this in any future iterations of church history courses I teach:
"
Resolved, The House of Deputies concurring, That the 79th General Convention as the Body
of Christ, confess our sins of gender-based discrimination, harassment, and violence against
women and girls in all their forms as we understand these sins, which include, but are not
limited to, sexual and gender harassment, sexual assault, physical, spiritual, and emotionally
abusive behavior, and oppression based on gender, particularly as these sins have
denigrated and devalued women and their ministries; acknowledge that within our
patriarchal culture, the misuse of power and authority is primarily exercised by men with the
vast majority of victims being women; have created a culture of excuses, justifications,
enabling, and dishonesty around gender-based discrimination and violence; have not heard the experiences of women with the goal of justice through acts of contrition, restoration, and reconciliation; that we as the Church seek to turn from the systems of oppression, patriarchy, heteronormativity, white supremacy, and our colonial legacy, among them, and
seek to engage in restoration of the dignity of women and reconciliation from past acts, beginning with confessing to God and to one another the truth that we have not loved God with our whole heart, and mind, and strength, and that we have not loved, respected, and honored the presence, gifts, equality, and ministry of women, seeing in them the presence of Christ; we have embraced patriarchal power, and in doing so, have exploited women and been blind to injustice and prejudice; and we seek to repent and be restored to God and to each other; with the church and each diocese declaring a period of fasting and repentance for this sin..."
The proposal outlines and names the key aspects to any process: truthtelling, confession, and reconciliation; all too often we can try to stop with some combination or truthtelling and/or confession, without efforts at reconciliation or even restorative justice.
Crusty is also grateful for the consultation with ecumenical partners: all too often we sometimes can fail to realize that many of our fellow Christians are dealing with these same issues, and can learn much from their processes. The proposal here is to follow a process taken from the United Methodist Church's efforts in these areas and will give us a sense of the scope of the problems in the church; assist dioceses in developing their own Truth & Reconciliations processes; conduct audits of our structures to identify those places where these systems of exclusion function; and an additional resolution calls for a thorough and extensive survey more fully to hear people's stories and assess the depth and extent of misconduct and harassment in the church.
This is a powerful section in the report, and perhaps one which can be transformative and being the kind of church God calls us to be.
5) Social Justice for Women: the report includes a number of important resolutions which look at social justice issues that disproportionately impact women: from ending domestic violence in our congregations, addressing sexual assault and misconduct in the workplace, dealing with immigration issues which can disproportionately impact women and children; and access to health care.
The Report concludes on an important note, one which Crusty almost wishes had lead the report: it focuses on intersectionality, which is significant. Intersectionality as a concept acknowledges that issues can transcend any one particular subgroup and impact different marginalized groups in different ways. This is part of the turn that the Rev. Dr. Martin Luther King made in the later years of his involvement in the civil rights movement: the realization that civil rights and voting rights had to be set against the backdrop of economic inequality and militarism. He expressed this perhaps most most forcefully in his series of addresses collected in Trumpet of Conscience; though he summarized intersectionality in a simple sentence: "Injustice anywhere is a threat to justice everywhere."
The intersectionality identified in this report must also call the church to account for our need for continued work in overcoming and addressing systemic racism in the church and our exploitation of marginalized groups. We are a racist, sexist church that is also stratified by income inequality and has marginalized youth and young adults as full participants. While we have made steps towards addressing the past, such as requiring anti-racism training, we are still nowhere near restorative justice of any kind in any area. In much of our church we skip from Absalom Jones to the Civil Rights movement, ignoring centuries of systemic racism. We created a narrative that notes our "peaceful" reunification after the Civil War, ignoring that it was a cheap reunion built on the foundations of segregation. We celebrate Emmegahbowh on our calendar in churches on land acquired through one of the greatest acts of genocide ever perpetuated. Will we remain stalled in the places where we are only asked to give statements and make videos?
We have been here before. In 1967, in the midst of urban violence, Presiding Bishop John Hines preached a sermon at General Convention calling for the church to act. The General Convention created a Special Program redirected millions towards restorative justice and empowerment: up to nearly $20 million, adjusted for inflation. It was a colossal failure because it foundered on the structural racism of the church. It foundered because the structures set up did not adequately involve and consult with persons of color within the church. It foundered because of backlash from racism within the church that resented this direction. It foundered because it created a grants programs before it had the necessary relationships in place.
We stand on a similar precipice. May this time, unlike with TREC and unlike with the General Convention Special Program, may God give us the courage to take those steps more truly to become the beloved community to which God calls us.